Fine Osteotomy™ was developed with these principles in mind, and based on published literature specific to the principles of orthopaedic correction1.
Fine Osteotomy™ is a global approach in which every step is part of the intervention's success, and none can be neglected, nor carried out randomly or in a compromised manner.
Fine Osteotomy™ used jointly with our highly accurate Bodycad copyrighted software. We use the latest technology in order to create a 3D printed patient-specific surgical guide adapted to your anatomical needs, as determined by your treating physician. Fine Osteotomy™ also includes a customized plate that is perfectly adapted to your situation, and matches the angular correction chosen by your surgeon.
Furthermore, Fine Osteotomy™ incorporates a unique safety technology that controls the depth of the cut, thereby protecting the posterior neurovascular structures thanks to its unique, calibrated drilling system.
With Fine Osteotomy™, nothing is standard
Bodycad's Personalized Restoration Software is based on published literature specific to the principles of orthopaedic correction. Our proprietary software is the heart of our process, enabling orthopaedic surgeons to achieve a personalized restoration based on your precise anatomical specifications.
In collaboration with the Bodycad team, our software puts your treating surgeon in complete control of your surgical plan.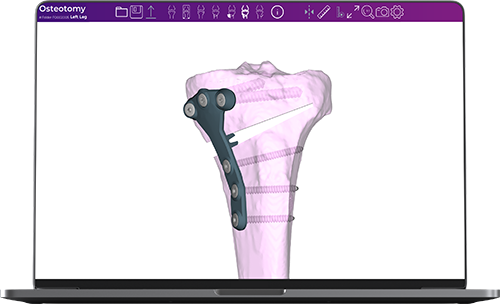 The Bodycad Software allows surgeons to:
Control the depth of the cut to protect the hinge axis and posterior neurovascular structures
Control the opening in order to respect the patient's native tibial slope
Achieve a planned angular correction for which no compromise is required thanks to the personalized design of the plate which mimics the desired opening / closing
Design a plate adapted to the patient's needs while incorporating the surgeon's surgical preferences
Plan the position and length of the screws preoperatively to ensure an accurate and controlled reconstruction
Simulate a multitude of osteotomy scenarios prior to surgery
Have access to a multitude of correction angles, as well as preoperative and postoperative measures for each osteotomy simulation
Plan an osteotomy while taking into consideration the patient's prior surgical interventions, such as an anterior ligament reconstruction
Plan the angle of the cut to increase or decrease your tibial slope as desired
Personalized Plate
With Fine Osteotomy™ you will have a completely personalized plate that adapts to your anatomy instead of a standardized product that needs to be bent and formed to you.
The plate is designed with our software and then manufactured in our factory.
A personalized plate will ensure that the planned correction uncompromised:
The plate contours patient's bone anatomy.
The shape of the plate is customizable.
The wedge's size, angulation, and position are planned for optimal correction.
The wedge sits only on the cortical bone.