You have a question? We have the answer.
General Information
How and Why was Bodycad founded?
Bodycad was founded in 2011 by Jean Robichaud a pioneer in custom technology and CAD/CAM software in the dental implantology industry. Jean was a driving force in the customization of dentistry which is considered standard of care today. His vision is to personalize and transform the orthopaedic industry.
How is Bodycad technology differentiated from others customs implants companies?
Bodycad

Other implant companies

Software Platform

Proprietary fully-integrated software platform with imaging, planning, design, and manufacturing capabilities, created internally by experienced software engineers

Drives efficiency and speed to go from images to digital implant design

Web-based surgeon portal and unique user interface ("UI") allows surgeon to access design file from any connected device and review, revise and confirm implant design

Mixture of custom designed software and 3rd party software resulting in patchwork platform that introduces unnecessary complexity and increased probability of potential bugs, errors or flaws, which can produce unexpected results or cause software to behave in unintended ways

Can take several days to produce a design

The surgeon does not have the ability to modify design parameters, some have portal allowing surgeon to view design, but no functionality that allows surgeon to validate or approve design

Manufacturing

Vertically integrated internal manufacturing capabilities allow Bodycad to control every aspect of the implant from initial design through final production, allowing Bodycad complete control of implant manufacturing process

Proven mass customization manufacturing workflow software and know-how that has been utilized successfully in the dental space, provides for higher utilization rates and efficiencies in a mass customization environment

Traditionally utilizes 3rd party manufacturers to manufacture products, just recently started to buy / bring in-house manufacturing capacity and capabilities

Difficulty controlling costs and downtime due to nuance and expertise necessary to manufacture in a mass customization environment

Speed

Once design approved by surgeon, 21 days until delivery

6 week turnaround time for implants

Accuracy & Fit

Bodycad platform allows for the design and manufacturing of every aspect of orthopaedic procedure with precision

Bodycad's precise and proprietary bone cutting technique ensures a high-level of precision for the surgery

100% of the procedure in the box is bespoke, designed by Bodycad's designing software–metals and plastics are milled and 3D printed with same software platform, utilizing computer assisted manufacturing capabilities, resulting in implant, cutting guides and tools with specifications with an accuracy of within 250 microns of design plan

Currently 3D printing cutting guides and tools based on 3D generated model of patient anatomy

Metal femoral and tibial implants are not fully customized (i.e.. manufactured for a specific case), however have multiple sizes of pre- existing implants that can adjust based on patients anatomy, so not 100% bespoke 
"Bodycad's proprietary Personalized Restoration Process makes true personalization possible. Surgeons can quickly and efficiently complete the Bodycad PREP (Personalized Restoration Evaluation Process):
Scan to plan: Patient images are sent to Bodycad to enable our Bodycad PREP Tech™ to perform precise measurements of anatomical features. The PREP Tech™ uses anatomical references that are scientifically supported to optimize function. The measurements are entered using Bodycad's Personalized Restoration Software to enable the creation of a personalized restoration solution.
Approve design: A three-dimensional rendering of the patient's anatomy, along with the proposed solution, is sent to the surgeon for approval or revision. Once approved, Bodycad manufactures the restoration in its own facilities using the latest manufacturing processes and highest quality industry standard materials.
Restore: The approved restoration is shipped to the surgeon with a customized Bodycad Instrument and Implant Kit, a Procedure in a Box. While the restoration technique itself is straightforward and easy to learn, Bodycad offers comprehensive training and ongoing support to ensure an optimal procedure."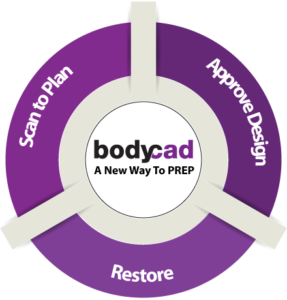 What is a personalized restoration?
Personalized restoration, also referred to as personalized orthopaedics, is associated with the personalized medicine movement in healthcare. It is an emerging field of medicine that uses diagnostic tools to identify specific anatomy to help assess which medical treatments, procedures and products will be best for each patient to restore function and mobility.
What is a typical turnaround time?
21 days from the time the surgeon approves the design.
What is the role of a PREP Tech™?
Bodycad PREP Tech™ are true collaborators who work with the surgeon to achieve precise anatomical fit for every patient. PREP Tech™ are knowledgeable about principles of load bearing, joint articulation, and orthopedic correction. They offer consultation and support at every stage of the development process, from initial design to final approval. Bodycad PREP Techs are trained in engineering, human anatomy, and software programming. Because they work closely with individual surgeons, PREP Tech™ are able to develop a sense of a surgeon's preferences and profile to further refine and customize each restoration.
What type of imaging is required?
Bodycad can use CT, MRI and digital radiographs. Bodycad is imaging agnostic, we believe we need the best images for the application. We continue to stay on top of current trends in imaging technologies to ensure a high level of precision in our 3D models. Our proprietary imaging algorithms allow for a fully automated segmentation with human verification steps. This allows for a very efficient and accurate model. We have guides for imaging procedures for the BC Reflex Uni™ and BC OnCall™ Cutting Guides which are available on our website.
BC Fine Osteotomy™
How long does the process take?
Within a few days of receiving the images via the PREPLINK, a first plan is proposed. BC Fine Osteotomy™ solution is delivered to your hospital within 21 days from the approval of the plan.
How do I know if the plate is positioned correctly?
BC Fine Osteotomy™ provides pre-operative and post-operative bone models. The unique perzonalized shape and patient-specific wedge, the plate fits only at the precise location providing the surgeon the assurance that the planning was properly executed during surgery.
What if I plan to do an ACL reconstruction during the surgery?
With BC Fine Osteotomy™ we can take into account any other surgery that is planned along with the osteotomy such as an ACL reconstruction. Therefore, the plate will be to leave enough space for the tunnel.
What if the patient already had an ACL reconstruction prior the surgery?
BC Fine Osteotomy™ will take into account the position and orientation of the tunnel to design and manufacture a plate that will consider previous surgeries.
Can you plan a bi planar correction?
Yes, by doing all the planning in a 3D environment we are able to plan a mono or bi planar correction.
What images do I need to send?
BC Fine Osteotomy™ needs a long standing AP Radiograph along with a CT scan of the leg. The CT Scan can be either full leg or the hip, knee, ankle. Refer to our imaging guide for further details. All the images can be sent by internet via the PREPLINK.
Connect to https://preplink.bodycad.com/ to create an account. One of our team members will contact you after your registration.
What material are the plates and screws made of?
Both the plates and the screws are Titanium alloy (Ti6Al4V).
Do you offer locking screws?
Yes, BC Fine Osteotomy™ offers 3 types of screws including 4.5 mm bicortical screws, 4.5 mm locking screws and 6.5 mm cancellous screws. They can be selected when filling out a new order form on the web portal PREPLINK.
BC OnCall™
What imaging is required for Bodycad OnCall?
Please consult the Bodycad OnCall imaging guide found in the download library or contact a PREP Tech™ at preptech@bodycad.com
What is the turnaround time?
Typically, 21 days from surgeon approval but this may vary according to the complexity of the design and the procedure.
What is a complex restoration?
A complex restoration includes any procedure which is typically a niche, underserved market and usually occurs in very small volume. Typically, this would include tumor resection, osteotomy and revision restorations.
BC Reflex Uni™
How does a PREP Tech™ communicate with the surgeon?
We communicate through PREP Link, our proprietary software which allows a PREP Tech™ and surgeon to communicate and collaborate on the optimal design for the patient. For the first time the surgeon can modify the design of the implants and instruments to their preferences best suited for their patient. This is true personalization.
What is the minimum thickness of the poly inserts?
What material is used for the 3D printed disposable instruments?
Medical Grade Nylon (polyamide type 12) which is used by many companies for personalized guides thrughout the orthopaedic industry.
Are they any checks and balances in the system for quality control?
Once the product is approved and manufacturing begins we follow strict quality controls and processes to ensure we maintain the highest standards for precision. Also we have a MDSAP and ISO 13845 certifications.
How does Bodycad determine a unique kinematic restoration for each patient?
We use proprietary algorithms to personalize the articulating surface based on the 3D rendering of the patient's anatomy. The kinematics is unique for each patient and validated by finite element analysis (FEA) and contact pressure for each patient.